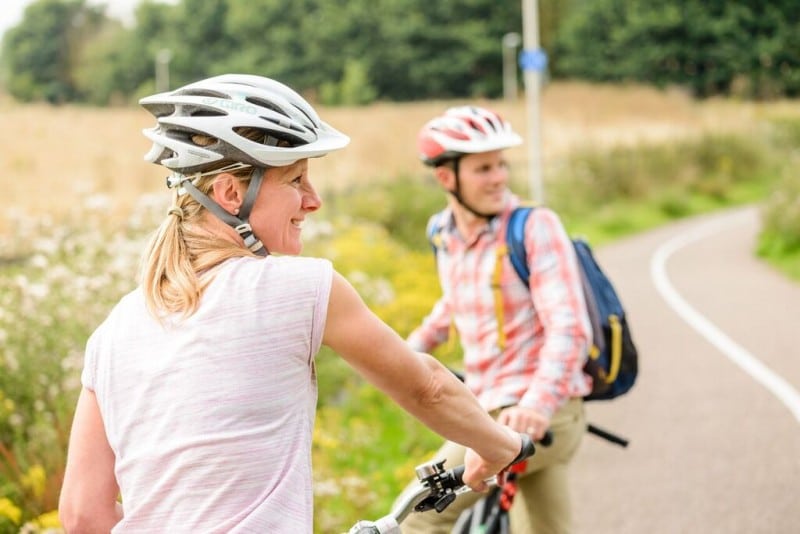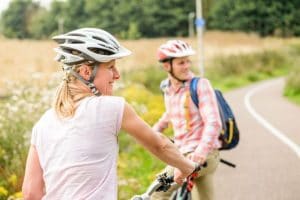 Always buy a new helmet which conforms to a recognised safety standards such as BS or CE. Make sure it is fitted correctly, the correct size & securely fastened.
Using a good quality lock or chain will help prevent your bike being stolen.
Cycling is a normal activity so normal clothes are fine for many journeys especially short ones. Windproof, breathable and waterproof/resistance clothes can make longer cycle trips or in poor weather conditions, more comfortable. See our Cycling in Winter tips too.
Avoid clothes or bags which may get tangled in the chain or the wheel.
Light-coloured or fluorescent clothing / reflective strips will help other road users see you in daylight and poor light. A reflective cover for rucksacks is a good addition too.
Use bell or call out "Hello" or "Excuse me" to let people know you are there. Our Share this Space programme gives practical advice on how everyone can enjoy using Devon's lovely paths and roads.
Bikes must have white front lights, red rear lights and reflectors and two working brakes.
Mudguards will help prevent the spray flicking up on you.
Panniers help keep the weight low on the bike and off your back.
Pump. Track pump for home and smaller pump, puncture repair kit, cycle tool kits, basic First Aid kit and tyre sealant for the journey.
Consider puncture resistant tyres-more time cycling, less time fixing punctures!
More information:
Devon County Council – Safe Cycling
Rules for Cyclists-Highway Code